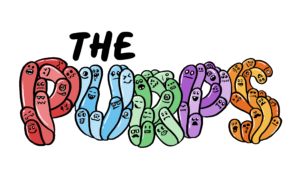 We love our collections and the Purps NFTs is no exception.  It's light and fun and we're trying to find ways to reward those that purchase our NFTs.  For this collection, you have a chance to win 100+ NFTS!
WHY MINT A PURPS NFT?
Cute, Cool PFP.  Chance to mint a Golden Ticket to get 100 NFTS FREE!
STEP 1: Mint as many NFTs as you would like to have!
STEP 2: Share with your friends so that we reach 1,000 NFTS minted
STEP 3: Then, we will reveal and the 10 Golden Ticket NFT holders will then be able to mint an additional 100 NFTS each FREE